The Safe@Web service protects your cards against unauthorized use when shopping online at Safe@Web participating merchants. Your online purchases are secured with the use of One Time Password (OTP). The service is free of charge to National Bank of Greece (Cyprus) Ltd cardholders.
Virtual Personal Assistant
New service from Mastercard for the support of local small and medium businesses that is offered free of charge to all Mastercard Business Debit cardholders of National Bank of Greece (Cyprus) Ltd.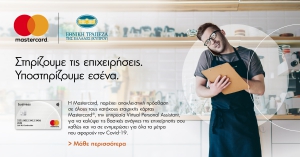 Mastercard Business Debit
International debit cards that offer to the officials of the businesses and their businesses an important number of facilities.
Mastercard Business Debit, enables you, through the contactless transaction technology, to carry out your business transactions up to €3,000 daily and manage your business expenses instantly, easily and securely. You can use your card at millions of locations displaying the Mastercard logo and the sign

 around the world, directly debiting your account.
​Contactless transactions in simple steps and with absolute security.
Using contactless transaction technology, Mastercard Business Debit provides additional convenience and speed in all your purchases at merchants equipped with the special terminals displaying the contactless logo.
How?
Hold the card for a few seconds in front of the terminal.
For transactions up to 50 euro, the transaction is completed without entering the PIN(*),
For transactions more than 50 euro, enter the PIN of the card, if requested.
When you hear the sound (beep), your transaction will be completed.
In addition, it enables its holders to expand acceptance to millions of MasterCard-branded businesses around the world, online purchases and fixed orders.
At the same time, it is still a useful tool for making your bank transactions, such as cash withdrawal through ATMs.
TERMS AND CONDITIONS
Terms and Conditions regarding the use of the card click here.
CHARGES – COSTS
Cards cost table click here.
Note
(*)  For your safety you may be asked to enter the PIN for transactions equal or less than €50.